Stone mats handmade in New Zealand
Table mats and table runners
Individually crafted at home by our small team of stone weavers who hand harvest this wonderful resource from the rugged West Coast of the South Island of New Zealand.
Tableware - Stone table mats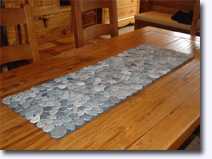 Stone place mats and table runners protect the table surface from heat.
Can be washed with a mild detergent and water.
Stone place mats and table runners
Tableware - Table mat sets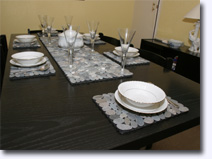 Rockly collection.
Unique flat stone table mat sets, now available in 3 different collections.
Stone mat tableware sets
Heavier flat stones - heavier backing
We use heavier grade flat stones, together with a much heavier backing for our range of floor mats.
Floor mats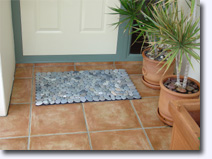 Weatherproof durable stone mats that can be used both inside or outside the home.
Floor mat / Door mat.
Bath mat / Shower mat.
Dramatic, walkable art.
Classic stone floor mat
Pathway mats - instant paving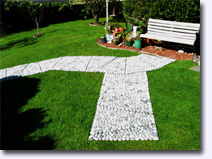 Interlocking.
As seen on T.V.
Coming soon to the U.K.
Stone spa mat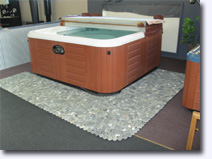 Exceptionally non-slip.
Soothing to the eye and feet.
Great to walk on.
Stone spa mat now available at Splash Spas.
Large circle mat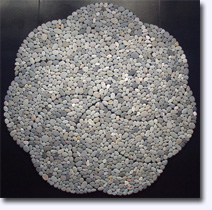 Large!
Designed for the conservatory or garden.
Made up of seven identical segments
Click on one of the photos above for more information on our Stone Mats.