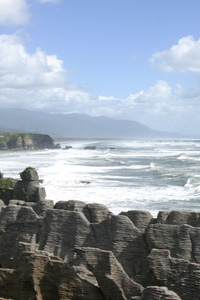 New Zealand
Natural Stone Mats

Gift Association
New Zealand Natural Stone Mats
We manufacture mats made from small flat stones, (pebbles) that are found in locations unique to the West Coast of New Zealand.


How do flat pebbles come about?
Stones are weathered by the seismic and geological activity that takes place in this part of the world – the Alpine fault, more specifically the Southern Alps.

The stones move down the many rivers flowing from the Southern Alps to the Tasman Sea and are carried the length of the West Coast by the Northerly drift, tumbling and polishing as they travel, some as far as 300kms.

Due to the rare combination of the conditions here, the stones are weathered to produce remarkably flat pebbles. Mother Nature, using wind and tide, uncovers small pockets of these stones on our beach.


Licensed resource
We are fortunate to have government consent to harvest pebbles from one of the few beaches where the flat stones occur. As part of our agreement, all stones and pebbles harvested have to be collected manually – that's by hand – no machine involved.

The Stone mats are individually hand crafted making each one a distinctive mix of both man and nature's art and engineering.


Stone mats
Small flat stones and pebbles are graded according to size – exactly how this is done remains a secret. The smallest flat pebbles are used to produce our range of tableware, whilst the larger stones go into making our floor mats. The really large stones are used for our spa mats.

The process for making our tableware is similar to that used in the making of our floor mats so both are durable, but the floor mats are a heavier weight item and use a heavier backing.

Using a secret technique, pebbles are bonded to a marine grade backing that has a 25 year UV rating, (and there is no ozone layer left here). Because of the skill combined with the secret processes which we have evolved over the years, we can produce a stone mat that is remarkably flat.


Stone weaving
Artistic stone weavers use the skills that we have learnt over the years to produce stunning table mats and floor mats – each stone mat is in its own right a work of art. You can tell just by looking at it who made it, (and when).

Not only just a work of art, Stone Mats have many useful qualities as well as uses.

They are durable and weatherproof so they can be used inside or outside the home. They're easily cleaned in the kitchen sink or bath with mild detergent and water. Because of the weight they don't like to slip, and they feel great to walk on barefoot which means they go down very well in the bathroom.

Stones don't mind the heat and they make a great talking point on the dinner table because they look so good.

Stonemats are a very novel and practical way to be able to enjoy a part of our natural environment around the home that both feels and looks good.